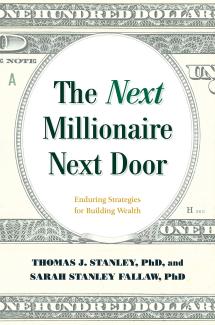 The Next Generation of Millionaires
I know I'm a little late getting this quarter's newsletter out, but I promise I have a good excuse.  On June 28th I successfully defended my dissertation and officially earned the title of "Dr." before my name.  It's been a crazy several years going back-and-forth between the University of Georgia and Oklahoma City to see clients, but I made some great memories and some especially great friends during my time in the Peach State. 
While I was there, I had the opportunity to meet and become friends with Sarah Fallaw, a PhD in industrial psychology, and the founder and President of DataPoints.  DataPoints provides financial advisors with psychometric assessments designed to provide behavioral insight into a client's financial behaviors, attitudes, and values.  These assessments are all designed to help advisors better understand their client's behavioral patterns, facilitate better conversation, and ultimately provide advisors the tools they need to improve financial behaviors (and outcomes) over time.
This all originated from the research data gathered and presented in the bestselling book, The Millionaire Next Door, by Dr. Thomas J. Stanley, who is also Sarah's father.  The Millionaire Next Door, originally published in 1996, uncovered and identified several common habits, behavioral traits, and investing strategies of American self-made millionaires.  Fast forward 22 years later, Dr. Sarah Fallaw is updating and continuing this research, refreshing it for the modern era with a quasi-follow-up book.
While the book does not yet have a name (or at least not one she was willing to share with me), we know it is coming out in October, and that it is going to focus specifically on behaviors that people can change.  I can't wait, and when it comes out, Radix Financial will be happy to have a copy sent to any client who would like to have one.  In addition, Radix is also now utilizing the behavioral tools and assessments from DataPoints with all new clients and hope to soon begin utilizing them with existing clients as well.
And for those of you who are curious as to "what's next?" for Radix Financial and I, now that I'm done in Georgia…
Well, you know I'm not one to sit idle very long--so as of this July, I'm taking my talents to the Cayman Islands!
What does that mean for my clients?  Absolutely nothing.  Radix Financial remains an Oklahoma-based LLC, fully owned and operated by Amy Hubble.  Except now, instead of Georgia, I'll be traveling frequently back-and-forth between Grand Cayman and Oklahoma to meet with clients. 
A second exciting thing to come out of the move is the announcement of a strategic partnership between Radix and Cayman-based firm, Helix Advisory Services Ltd.   Helix (the name similarity is coincidental) is an advisory firm which specializes in proving high-net-worth and institutional clients with customized investment strategy and asset allocation.  The company is managed by three British blokes all named Simon (no joke), who are all incredibly intelligent, have decades of experience, and whom I hope will add broad international expertise to the (formerly) one-woman investment team. 
And while I will still be in God's country as much as ever, I would of course welcome and encourage clients to visit down in Grand Cayman whenever their schedule permits.  
Cheers,
Amy Hubble, PhD, CFA, CFP®